Today's (16th) noon, the provincial fire brigade headquarters chief led 67 fire officers and soldiers to zhuhai to reinforce the anti-wind work, and set up the anti-wind rescue frontline headquarters to organize the fire brigade into rescue operations.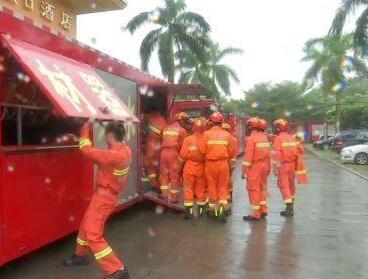 At 4:30 p.m., as the typhoon approached, the Yangjiang Wind Resistance and Emergency Rescue Command was connecting with the Command Center of Guangdong Public Security Fire Brigade to report the situation of typhoon resistance and personnel presupposition. It is understood that, at present, the work of wind-resistant rescue and rescue has been fully carried out, and the fire brigades are united to fight against typhoons, and three professional teams have been set up in view of the possible dangers in our city: first, for Dongping Nuclear Power Station, 138 fire officers and soldiers have been arranged to garrison together with militias; second, for the possible mud in Yangchun City; Debris flow disposal teams are arranged in the places where debris flows occur. Thirdly, professional teams are arranged for the storage area of dangerous chemicals in our city to ensure that dangerous chemicals are not leaked and secondary disasters occur in typhoons.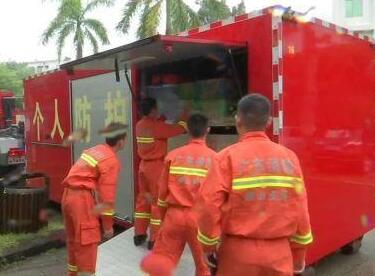 Cao Qi, head of the provincial public security fire brigade, said, "When we arrived here at 11 noon, we discussed with comrades from Yangjiang Fire Bureau and Foshan Bureau to set up our front headquarters. The main function is to organize, command and dispatch, including communication and liaison support. At present, all our teams have been prepared, including reinforcement forces have arrived at the preset locations of Hailing Island, Yangchun and so on. Generally speaking, our commanding officers carry out unified dispatching according to the situation of danger and disaster.