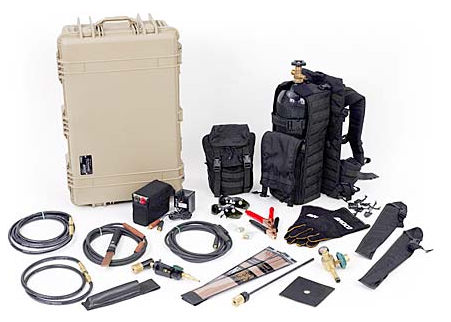 Broco® Breaching Kit contains a depth-compensating oxygen regulator to facilitate limited underwater cutting operations to 90 fsw. In addition to breaching/forced entry, the Broco® Breaching Kit can be used for amphibious special ops and maritime damage control operations. RapidFire® cutting rod igniters are required for underwater ignition of cutting rods.
Broco® Breaching Kit forced entry kit setup is fast and easy. The use of hand-tight fittings and quick connects means no tools are required for assembly or disassembly. The Broco® Breaching Kit uses Broco® cutting rods and RapidFire® cutting rod igniters (optional). RapidFire's fuel element reacts with oxygen to produce a preheat source facilitating near-instantaneous non-electric ignition of the cutting rods. For economical operations, the included battery ignition components allow easy lighting of the cutting rods.
The Broco® Breaching Kit comes complete with torch, high pressure oxygen cylinder, regulator, hoses, Breachers A.R.C. Molle backpack assembly, battery ignition accessories, rod extender, rod quivers, leather shield, gloves, safety goggles and custom foamed storage case.