Designed to fit curved metal bumper for quick and easy lifting with your HI-LIFT .The Tool Of Choice For Extrication, Heavy Rescue, Forcible Entry, RIT/RIC, Procedures As Well As Stabilization And Shoring.
From being first on-scene at a rural accident to deploying RIT for a firefighter down during a structure fire, or searching for victims at the largest of incidents, there is no tool in the fires service that offers more versatility than the First Responder Jack by Hi-Lift®
Dependable and Versatile
No other rescue tool is as easy to use, dependable, visible, and versatile -- giving it unlimited potential at a fraction of the cost of other expensive rescue tools. The First Responder Jack offers the same spreading and ramming options used in extrication as the expensive hydraulic tools at a fraction of the cost. It requires no fuel or power, which makes it ideal for remote access with limited resources, and USAR applications in all types of disasters.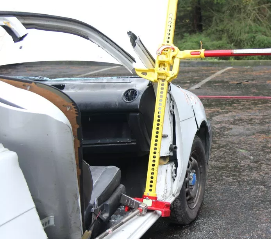 FEATURES
• Removable Top Clamp-Clevis Attachment Is Rated To The Full Capacity Of The Jack For Winching, Clamping And Spreading.
• Durable Powder-Coated Bright Yellow Main Components With Fire Red Actuating Piece
• Aggressive 36 Sq. Inch Base Provides A Safe And Effective Platform, While Offering A Wide Array Of Rescue Options That Encompass;
Cribbing, Chains, Straps, And Has A 360 Degree Pinnable Rotation Platform.
• Luminescent Features For Use In IDLH And Low Light Atmospheres.