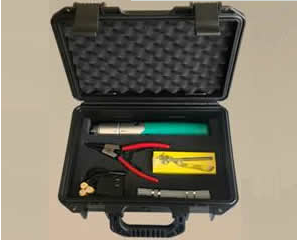 For emergency removal of BioBlu™ 27, Cobalt, Titanium or Platinum rings.
Emergency rooms and medical facilities: please note that an ordinary ring cutter cannot cut these tough metals—they are simply too hard. A diamond-plated disc with motorized drive is truly essential. Such a disc will fit on most ring cutters, but in an emergency time is critical, and a dedicated ring cutter eliminates fumbling with time-consuming retrofits. An instructional video is provided below so you can learn safe cutting techniques for these hard metals.
Continued application of water is required while cutting to keep the disc cool, preventing blade damage from excessive heat. Since the metal is so hard, it cannot be spread, so two cuts are necessary: one on each side of the ring. The diamond does the work, so only gentle pressure is required.
Removes even the toughest ring in under 4 minutes. Works with most standard power screwdrivers that can accommodate a 1/4" hex bit (optional power screwdriver sold separately). A sturdy cutter arm cradles the rotating blade, preventing harm to the finger.

Power Ring Cutter includes:
Ring cutter pliers
Two diamond-plated discs with 1/4" hex drive for power cutting of hard metals
Steel saw blade with key drive for manual cutting of soft metals
Lock nut with T-handle
Water bottle for lubrication during cutting